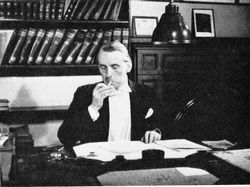 CM in The Times office after a first night
Dramatic Critic: Selected Reviews (1922-1939) by Charles Morgan, ed. Roger Morgan, with an introduction by Carole Bourne-Taylor (London: Oberon Books, 2013), ISBN 978-1-84943-135-4, 276 pp., £18.99

If Charles Morgan had never written a single novel, his theatre reviews alone would qualify him as one of the masters of twentieth-century English prose. All gratitude is due to Roger Morgan for the huge effort of selection represented by the present volume, the first ever to collect Charles Morgan's dramatic criticism into an available format.

For those who have read and loved the rest of his work, these reviews are a discovery: surprised and silent upon a peak in Darien, the reader is lost in admiration. This is a Morgan quite as masterful in his command of the language as the novelist and essayist; yet the form and circumstance of the reviewing process elicit from him a whole other series of registers. The language is crisper, the wit sharper, the discipline even tighter. The humour he was sometimes unjustly criticised for lacking, and which does appear at times in the novels, is here crisply present.

"An actor depends for his immortality on his influence and his legend": so begins the fine 1938 centenary article on Henry Irving. The same might be said for all theatre, an ephemeral art par excellence. Fortunately, the theatre of l'entre deux guerres has another instrument to strengthen its afterlife: the reviews of critics such as James Agate and Charles Morgan. Reading this book – and, surprisingly, one finds oneself reading it rather than merely dipping – brings back a vanished world of plays and players, of serious plays and revues, of undergraduates and old stagers, of Greek players performing Electra and American actors playing Of Mice and Men on the London stage, players now forgotten and actors well recognised, those last often from their earliest beginnings: John Gielgud, Peggy Ashcroft, Jack Hawkins, Donald Wolfit, Laurence Olivier, Ralph Richardson. The reviews – and the occasional more general pieces, often written for the New York Times -- illustrate the influence, not only of actors but of directors and authors too, and both explain and contribute to the legend.

In her admirable selection of Morgan's letters with a Memoir, Eiluned Lewis quotes (from Philip Hope-Wallace) an unforgettable picture of Morgan the theatre critic:

He was an awe-inspiring performer for a tyro to watch. He would come into the office late, after a play, and sit for a full two-thirds of the precious minutes before edition time (even then we had only up to midnight, and theatres often began later than now). He would sit in silent meditation looking like a statue of some great French poet on a monument, his finger to his brow; then quite suddenly he would take a 'push pen' and block of paper and begin to write his notice with an even unbroken flow, line after line; and the copy boy could take them right to the printer, for there was never a comma out of place.

Reading the notices themselves makes this capacity even more impressive. In the early twenty-first century, the first thing that perhaps strikes readers is the range and the sophistication of the language. It sounds a little formal to us, yet when one is used to it the nuanced precision is extraordinary.

The discussion takes in authors, producers and actors; the nature of the play itself, often in relation to the author's other work; in many cases the achievement of the mise en scène; and the work of the actors. As Carole Bourne-Taylor mentions in her useful introduction, what Morgan the critic hated most was what he called "productionism": "the producer's job is not to repaint the picture or daub his own signature over it, but to illumine it and give it a frame." In the case of Shakespeare, however, what he contended with was the habit of turning the bard into a national monument: it is hard, he opined, to fall in love with Nelson's column, and that is what theatres and schools have made of Shakespeare. What, one wonders, would he have said to today's Shakespeare, a lamp-post against which every producer cocks his leg?

One is almost irresistibly tempted to string together quotations from this wonderful volume. I will with great difficulty confine myself to two about plays, and two about actors. First, Chekhov's The Seagull:

. . .The Seagull is among the supreme masterpieces of the theatre, having, particularly in the first two acts, a fluidity and ease that by their perfection make the heart turn over. To these qualities are added, as the play advances, the terrible insight into human weakness that has created the scene of Arcadina's clinging to her unwilling lover, and the superb pity that enabled Tchehov to reach, without strain, the tragic climax of the last act.

Second, this withering estimate of Emlyn Williams's He Was Born Gay (the word still had its traditional meaning in 1937):

This is one of those occasions on which criticism does not stand about talking, but rubs its eyes and withdraws hastily with an embarrassed, incredulous, and uncomprehending blush. What made Mr. Emlyn Williams write this play and Mr. Gielgud and Miss Ffrangçon-Davies appear in it is not to be understood . . . But when for long, long passages of rhetoric Mr. Gielgud whimpers childish memories of prison, or, in flowing periods, spreads emotional tremors over the beloved scenery of France, . . . one holds fast to the arms of an astonished stall and prays that no one will laugh out loud before it is over.

As for actors, Morgan began his review of John Gielgud's 1934 New Theatre Hamlet as follows:

Is it a cold tribute to an actor to say that his Hamlet in the theatre gives pleasure of the same quality and measure as a private reading of the play? It should not be,for in a man's library is given his ideal performance, free of physical impediment; and Mr Gielgud's playing is, for one spectator at least, this performance's precise equivalent. To others it may well seem too little spectacular, too curbed in its emotional display; but, indeed, Hamlet is not a flaunting part, though it is often so treated; it is not designed to provoke hot tears and shouting but to penetrate the soul by way of the intellect; and the first merit of Mr Gielgud's interpretation is that it does not throw up passionate mists with which to conceal confusions. From the chill, ironical menace of its opening to the fierce attack of the play-scene and the terrible rage at the burying of Ophelia it pursues its argument with a brilliant lucidity. Nothing is smudged or doubtful; everything is as decisive as the line in the pencil-drawing of a master.

And here is the second paragraph of "Fellowship of Players: Miss Forbes-Robertson's Juliet" (13 December 1926:

What is above all else remarkable is Miss Forbes-Robertson's power to make the spiritual innocence of Juliet shine through words of hers that to modern ears seem to contradict it. Has it been said that Shakespeare has made this child-woman over-eager, too swiftly passionate, too ready with a lover's tongue? Here, then, is all that eagerness and passion, brilliant in her eyes, overflowing in her speech. Even her stillness is full of it, so that when, after her first meeting with Romeo, she stands aside from the dance, we see love qickening in her, and when, after her parents have bidden her marry Paris, she stands silently again, the determination of love sweeps over he like an invisible flame. Yet there is no excess of it, no jarring of youth with knowledge; the portrait is Shakespeare's own, balanced and complete. And when sorrow is upon her, with what simple majesty she wears it, as a queen that puts on her crown! Awakening from her false death in the tomb and perceiving suddenly Romeo dead at her side, she stoops to him with an incomparable movement of tenderness and despair. Whatever else time may overcloud, that we shall not forget.

This is a treasure of a book. It takes one away to a world of theatre now almost vanished, when having twelve actors on stage was not considered too expensive, when plays were not (well, not often) twisted to suit the producer's ego, and when beauty was not an embarrassment. And it brings that world gloriously to life, through the eyes and the pen of one of its most committed, intelligent and affectionate spectators.