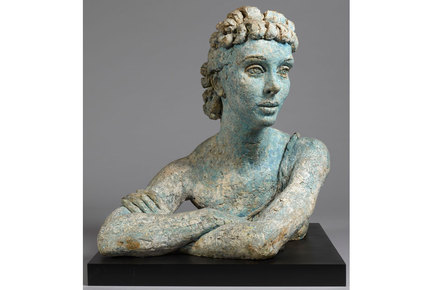 from ArtDaily.com:
LONDON.- A large plaster bust of the celebrated twentieth century British actress Margaret Rawlings by sculptor Frank Dobson has been donated to the National Portrait Gallery Collection, it was announced today (Wednesday 11 December 2013). The bust of Rawlings, who had a remarkable acting career for over forty years, was modelled from life by Dobson in 1936 and measures twenty-three inches in height. In the portrait, Rawlings has her arms crossed and head turned to face one side in an informal and relaxed manner. In the year that the portrait was created, Rawlings had achieved notable success playing Katie O'Shea in Elsie Schauffler's Parnell, firstly at the Ethel Barrymore Theatre, New York, and then at the New Theatre in London's West End. The portrait was exhibited at the Royal Academy in the same year.
During her long career, Rawlings (1906 – 1996) achieved considerable acclaim for many successful roles both in Britain and abroad. She made her stage debut on 21 March 1927 in George Bernard Shaw's The Doctor's Dilemma at the Grand Theatre, Croydon. During the 1930s, her reputation as a leading tragedy actress gained ground as she starred as Bianca Capello in Clifford Bax's play The Venetian and Oscar Wilde's Salome, and she continued to receive praise from critics for her vivid and emotional performances. Rawlings was particularly successful playing the spectacular dual role of Mary Charrington and her husband's murdered Mistress, Lucy, in Gordon Sherry's thriller Black Limelight, which had a long run at the St. James Theatre in 1937.
The following year, she played a lead role as Karen Selby in The Flashing Stream, a part written for her by the play's author Charles Morgan, novelist and chief drama critic for The Times. Rawlings gained further recognition following her roles as Eliza Doolittle in Shaw's Pygmalian; A House in the Square by Diana Morgan, in which she starred with Lillian Braithwaite; and Vittoria Corombona in John Webster's tale of corruption and deceit The White Devil.
During the 1950s and 1960s, some of Rawlings' main successes included Zabrina in Christopher Marlowe's Tamburlaine with Donald Wolfit (1951), Lysistrata in Bernard Shaw's The Apple Cart (1953), the title role in Jean Racine's Phedra (1957), Ella Rentheim in Henrik Ibsen's John Gabriel Bjorkman (1963) and Jocasta in Sophocles' Oepidus the King (1964).
Although Rawlings retired in the early 1970s, she returned to the stage in 1979 in a one woman show playing the Empress Eugenie in Jason Lindsey's play Eugenie.
Rawlings also co-founded the British Actors' Equity Association, where she served as a Council member for thirty years and then as Vice President during the 1970s.
Having achieved recognition in the 1920s, Frank Dobson is now regarded as one of the most important British sculptors of the twentieth century. After taking up sculpture in wood in 1913 - 1914, Dobson established himself as a pioneer of direct carving, although his first one-man show at the Chenil Gallery in Chelsea in 1914 comprised paintings and drawings. From 1919, he focused on sculpture and had his first solo show at the Leicester Galleries in 1921. Championed by art critic Roger Fry and others associated with the Bloomsbury group of intellectuals, Dobson achieved his greatest recognition in the following decade. Subsequently, his work became increasingly Neo-Classical, developments which did not match his earlier success and his reputation declined. During World War II he was an Official War Artist and was Professor of Sculpture at the Royal College of Art from 1946 to 1953. He was elected to the Royal Academy in 1953.
Paul Moorhouse, Curator, 20th Century, National Portrait Gallery, says: 'This very beautiful sculpture provides an opportunity to contemplate the achievements of two leading lights of the 1930s British art world: the highly regarded actress Margaret Rawlings and the leading modernist sculptor Frank Dobson. Its seductive presence rekindles the fascination that both these luminaries elicited from their many admirers.' The bust of Margaret Rawlings by Frank Dobson is now on display in Room 31, First Floor, National Portrait Gallery. Admission free. A book of Margaret Rawlings' wartime love letters is currently being edited by her granddaughter Camilla Sacchi.
More Information:
http://artdaily.com/news/66797/National-Portrait-Gallery-acquires-bust-of-celebrated-actress-Margaret-Rawlings#.Uql82GRDv85[/url]
Copyright © artdaily.org
We thank Jacqueline Thibault Schaefer for this item of interest to Morganians