On this page we will put some texts concerning CM, with the exception of those introducing editions still on the market, such as Valentine Cunningham's Preface to the Capuchin Classics edition of
The Voyage
, and Carole Bourne-Taylor's introduction to the Oberon edition of the theatre criticism (see the
News
page).
Some useful titles for the study of Morgan's work and reputation
Our friend Jacqueline Thibault Schaefer from Tennessee has sent us a collection of offprints and photocopies of articles concerning CM, in French, German and (a few in) English. Eventually these will be sent to the Bodleian Library in Oxford, to join the large archive Roger Morgan sent them last year; but meanwhile it seemed useful to print here a brief bibliography of them. Anyone who would like a copy of any of these items (excepting theses and other book-length ones) is welcome to e-mail the Webmaster with a mailing address. At least one of them I hope to reprint here on the website.

A BRIEF BIBLIOGRAPHY OF MORGAN-RELATED DOCUMENTS FROM JACQUELINE THIBAULT SCHAEFER'S COLLECTION, RECEIVED IN APRIL 2018

FRENCH

1. Bonnerot, Louis, "Essai sur les romans de M. Charles Morgan", Revue anglo-américaine 10 (Paris, 1932), 123-136.
2. Bonnerot, Louis, "Essai sur le dernier roman de Charles Morgan: 'Sparkenbroke'", Êtudes anglaises, Paris, January 1937, 193-209.
3. Bonnerot, Louis, "Charles Morgan et la France" < Mercure de France, tr. as "Charles Morgan and France", Hibbert Journal XLVIII (Oct. 1944-July 1950), pp. 23-32.
4. Cazamian, Louis, "Les livres anglais: Sparkenbroke' de Charles Morgan" (1936), in Etudes anglaises 19 (1966), 161-167.
5. Chastaing, Maxime, "L'imagination chez Charles Morgan", Vie intellectuelle, 25 (April 1934)(Paris), 295-311.
6. Du Bos, Charles, "Fontaine" in Approximations, VIme série (Paris: Corréa, 1934), 399-447.
7. Du Pange, Victor, Charles Morgan, Classiqes du XXme siècle (Paris: Editions universitaires, 1962) [complete photocopy]
8. Engel, Claire-Eliane, "Charles Morgan", Profils anglais (Neûchatel, 1946), 13-41.
9. Engel, Eliane, "Charles Morgan, romancier", Nouvelles littéraires 7 April 1934, p. 8.
10. Frank, André, "Le Voyage", Nouvelles littéraires 21 February 1946, p. 6.
11. Gérard, Albert, "Charles Morgan et l'amour", Tijdschrift voor levende talen 9 (1943), 12-17.
12. Gérard, Albert, "Le thème de la mort dans l'œuvre de Charles Morgan", Tijdschrift voor levende talen 9 (1943), 58-59.
13. Giffard, Hugh, "The Writer and the Naturalist" preceded by "Hommage à Charles Morgan", Etudes anglaises XXIII:1 janvier-mars 1970, 1-5. [NB: this was a CM commemorative volume of the journal; HG was the model for Ballater]
14. Gillet, Louis, "Un romancier anglais: M. Charles Morgan" Revue des Deux Mondes 1 July 1933, 203-214.
15. Gillet, Louis, "Le singulier voyage de M. Charles Morgan", Revue des Deux Mondes 15 April 1942, 211-219 [review of The Voyage[
16. Hourcade, Pierre, "Charles Morgan et le roman de la connaissance spirituelle" Cahiers du Sud 21 (1934), 475-484.
17. Jaloux, Edmond, "Fontaine, par Charles Morgan", Nouvelles littéraires 24 April 1934, p. 3. [review]
18. Lacher, Walter, L'amour et le divin: Marceline Desbordes-Valmore, Anna de Noailles, David-Herbert Lawrence, Charles Morgan (Paris: Perret-Gentil, 1961), 103-152.
19. Lefèvre, Frédéric, "Une heure avec Charles Morgan", Nouvelles littéraires 23 June 1934, p. 6.
20. Lessort, Paul-André, "Charles Morgan et l'unité de l'esprit", Cahiers du Sud 29:2
(1942), 55-62.
21. Madariaga, Salvador de, "Notice sur la vie et les travaux de Charles Morgan (1894-1958)", Institut de France, Académie des Sciences Morales et Politiques, 13 June 1960 (Paris: Institut de France, 1960) [Official tribute by his successor in the Academy]
22. Madaule, Jacques, "Charles Morgan ou la recherche du paradis perdu", Esprit 1 (Paris, June 1939) 374-395.
23. Magny, Claude-Edmonde, "Charles Morgan [+ intro]", Les sandales d'Empédocle: essai sur les limites de la littérature, Etre et Penser: Cahiers de la Philiosophie 11 (August 1945)(Neuchâtel: Ed. de la Baconnière), 14-40, 41-103, 276-281.
24. Michel-Cote, P., "Sparkenbroke, ou le 'climat' de la pensée anglaise, Revue hebdomadaire 30 April 1938 (Paris) 543-559.
25. Pugh-Puis, Claude, "Visite à Ballater" Etudes anglaises XXIII:1, January 1970, 6-17 [NB: see no. 11, above]
26. Raimond, Jean, "Mysticisme et romantisme dans l'œuvre romanesque de Charles Morgan" in Aspects du romantisme anglais: mélanges offerts à Jacques Blondel, Centre du romantisme anglais, université de Clermont II (Paris: Bordessoules, 1980), 337-400.
27. Raimond, Jean, "La fuite devant l'autre et le culte du moi dans la poétique de Charles Morgan" in L'autre dans la sensibilité anglo-saxonne (Reims: Presses universitaires, 1983), 93-106.
28. Raimond, Jean, ""Récit et philosophie dans deux romans de Charles Morgan: 'The Fountain' et 'Sparkenbroke'" in Du verbe au geste: mélanges Pierre Danchin (Nancy: Presses universitaires, 1986), 251-260.
29. Simon, Pierre-Henri, "Autour de 'Sparkenbroke'", Vie intellectuelle 25 (April 1939), 280-299.
30. Wieder, Robert, "Les lettres de Morgan", Etudes anglaises XXX:1 (January 1970), 19-22. [See no. 11, above; review of Eiluned Lewis]

GERMAN

1. Brie, Friedrich, "Der englische Künstlerroman (Sparkenbroke von Charles Morgan)", Geistige Arbeit 5 (Berlin, 1938), 7-9. [Review of Sparkenbroke]
2. Brie, Friedrich, "Charles Morgans jüngste Entwicklung ('The Voyage' 1936-1940)", Mitteilungen über englische Sprache und Literatur und über englishen Unterricht 2, Anglia Beiblatt 53 (1942), 122-130.
3. Dockhorn, Klaus, "Charles Morgan und Hegel", Englische Studien 74 (1940/41), 168-188.
4. Effelberger, Hans, "Der literarische Esoteriker Charles Morgan", Die neueren Sprachen , n.F. 1(1955), 220-224.
5. Fehr, Bernhard, "Sparkenbroke und die platonische Idee in England", Die Tatwelt 13 (Berlin, 1937), 171-178.
6. Fischer, Walther, "Zu Charles Morgans künstlerischer Entwicklung", Forschungen und Fortschritte, 26:1/2 (January 1950), 16-18.
7. Funke, Otto, "Charles Morgan und sein Romanwerk (1944)", Wege und Ziele (Bern, 1945) 75-96.
8. Lerch, Emil, "Charles Morgan", Jahrbuch des Verbandes der Renaissance-Gesellschaften (Basel, 1938), 43-70.
9. Papajewski, Helmut, Das Problem der Wirklichkeit by Charles Morgan, Neue Deutsche Forschungen, Abt. Englische Philologie (Berlin, Junker u. Dünnhaupt, 1940).
10. Pintschovius, Karl, "Menschliche Atmosphäre: Gedanken zu Charles Morgans Romanen", Die neue Rundschau 49 (1938), 89-104.
11. Riesner, Dieter, "Charles Morgan: 'Portrait in a Mirror'" in Oppel, Hans (ed.), Der moderne englische Roman: Interpretationen (Berlin, 1965), 222-244.
12. Viebrock, H., "Die Bedeutung der Einbildingskraft bei Charles Morgan", Germanisch-Romanische Monatsschrift 31 (1943), 184-103.

ËNGLISH

1. Clark, B.H. & G. Freedly (eds.), A History of Modern Drama (NY/London: D. Appleton-Century, 1947), p. 197 [brief mention of The Flashing Stream]
2. John, S.B., "The Mirror of the Stage: Vichy France and Foreign Drama" in Literature and Society: Studies in 19th and 20th Century French Literature presented to R.J. North, ed. C.A. Burns (Birmingham UP, 1980), 200-213 [partially on River Line]
3. Painting, David, "Charles Morgan: A Revaluation", The Anglo-Welsh Review 18: xii (1970), 90-94.
4. Priestley, J.B., "Morgan in a Mirror", New Statesman 16 July 1960, p. 92.
5. Reid, Donald G.M., Charles Morgan, Novelist: Preliminary Studies [thesis](Dalhousie University, 1981).
6. Saliba, Mona, "Love, Contemplation and Death: the Imaginative Ideal in the Writings of Charles Morgan" [essay] (University of the South, 1981-2)

ITALIAN

1. Palazzani, Nadia, "Charles Morgan's Novels of Ideas", Annali VI, Istituto universitario di Lingue Moderne, Feltre (Ravenna: Longo, 1990), 219-243.

THESES

1. Delere, Otto, Metaphysik und Ethik in den Werken von Charles Morgan (Bonn, 1939)
2. Hoffmann, Anna, Die Frauengestalten in den Romanen von Charles Morgan (Tübingen, 1950)
3. Iklé, Charlotte, Individualität und Transzendenz bei Charles Morgan (Zurich, 1961)
4. Kirchner, Gerda, Die Grundideen in Charles Morgans Werken (Innsbruck 1949)
5. Riesner, Dieter, Studien des Bildhaftigkeit in Charles Morgans Prosakunst (Berlin, Freie U, 1953)
6. Schürkes, Claire, Kunst-Liebe-Tod: die drei Wege zur Transzendenz bei Charles Morgan (Marburg, 1941)
7. [? no name, no title-page: typed thesis in English]





A rare appreciation of Morgan's poetry

Morgan's poetry -- capably edited by Peter Holland a few years ago -- has never received much critical attention. So it was with considerable pleasure that we came upon an article about it in The Poetry Review vol. XXXVII no. 1 of April 1946. And we are pleased to publish a scan of it here. Aneurin Rhys, the author, is still a mystery: if anyone has any information about him, please e-mail the Webmaster.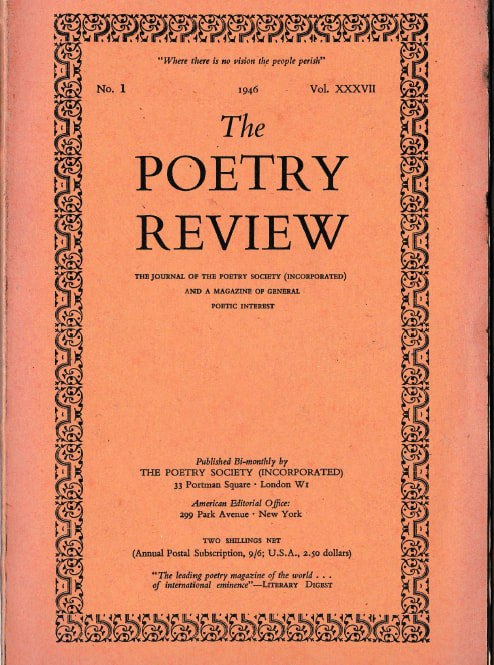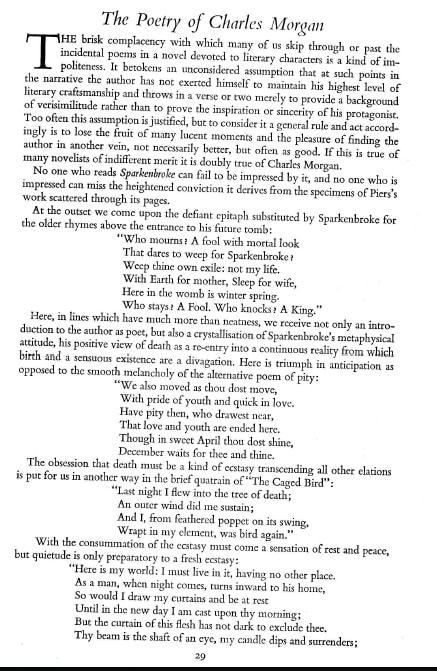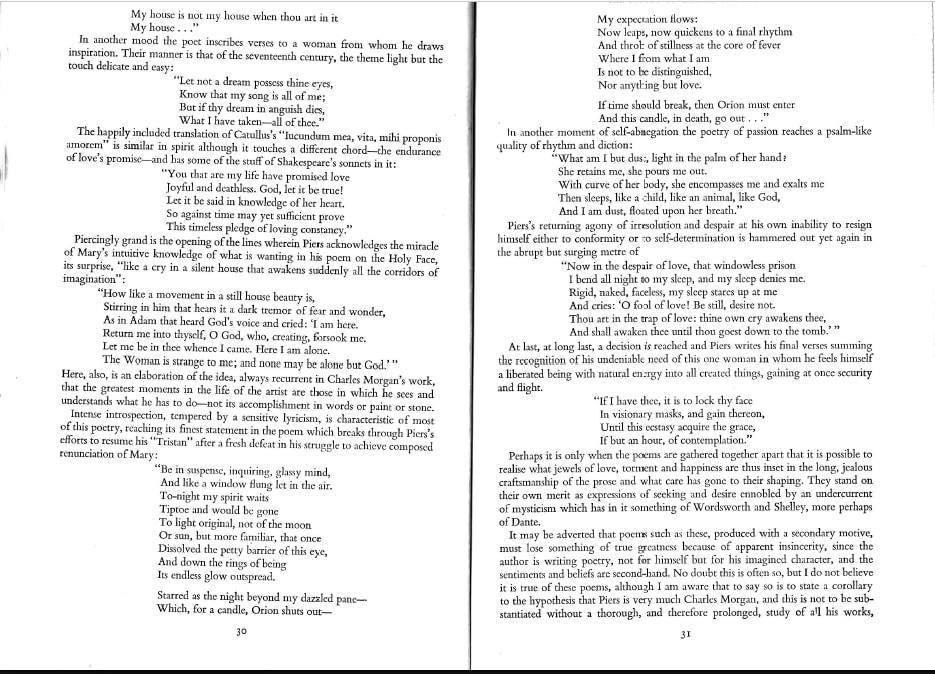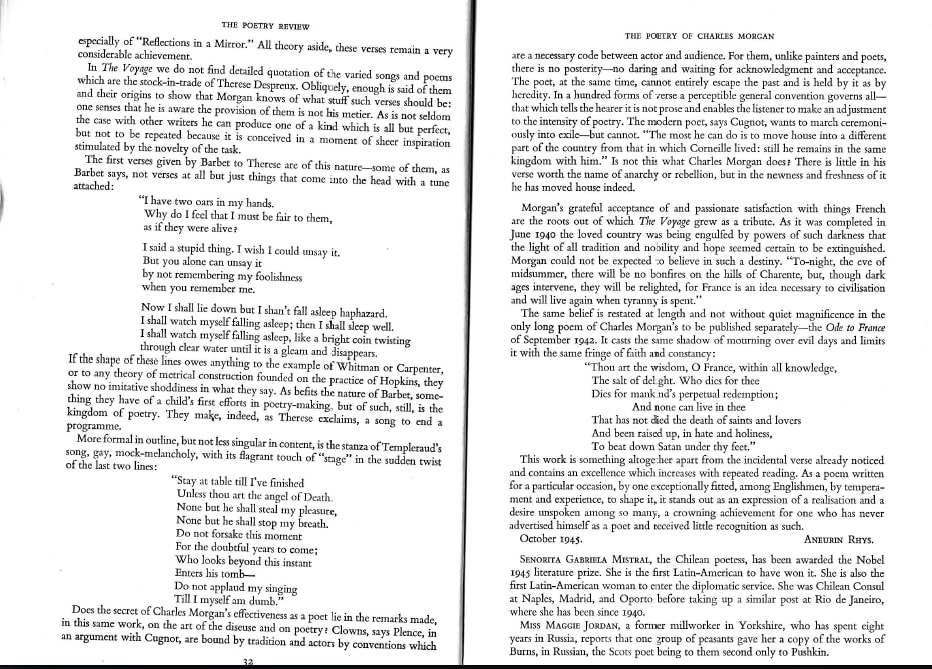 A remarkable study of ​Sparkenbroke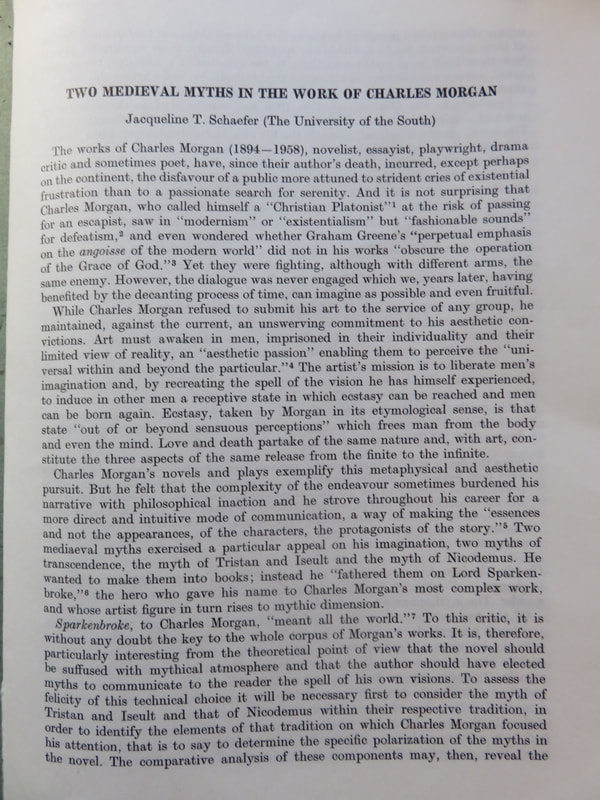 Here is the text of a remarkable presentation by Jacqueline Thibault Schaefer, Professor Emeritus of the University of the South in Sewanee, TN, given in 1979 at the IXth Congress of the International Comparative Literature Association in Innsbruck, Austria. We reproduce it here with Professor Schaefer's kind permission.



​

​
​
---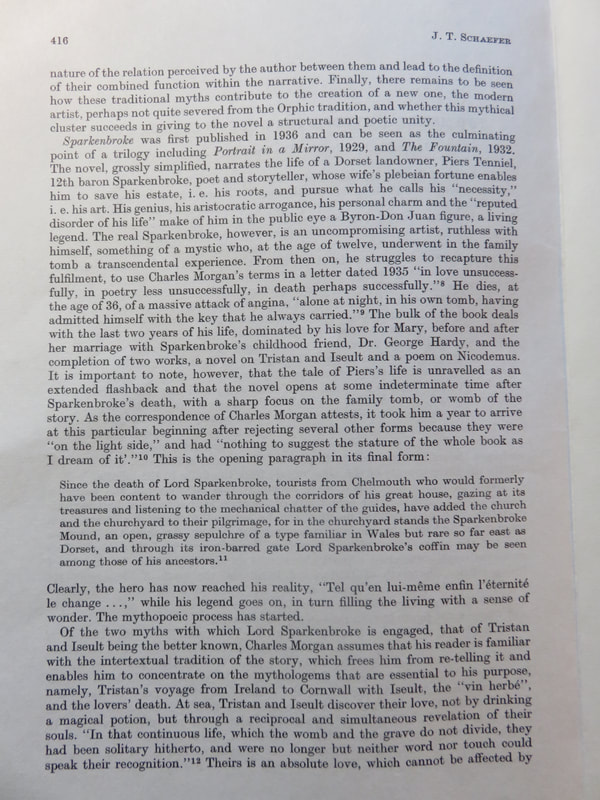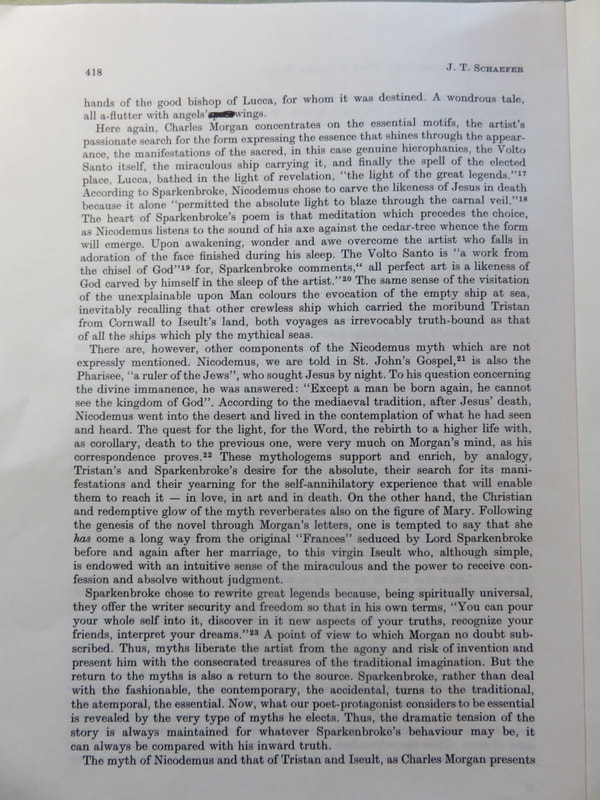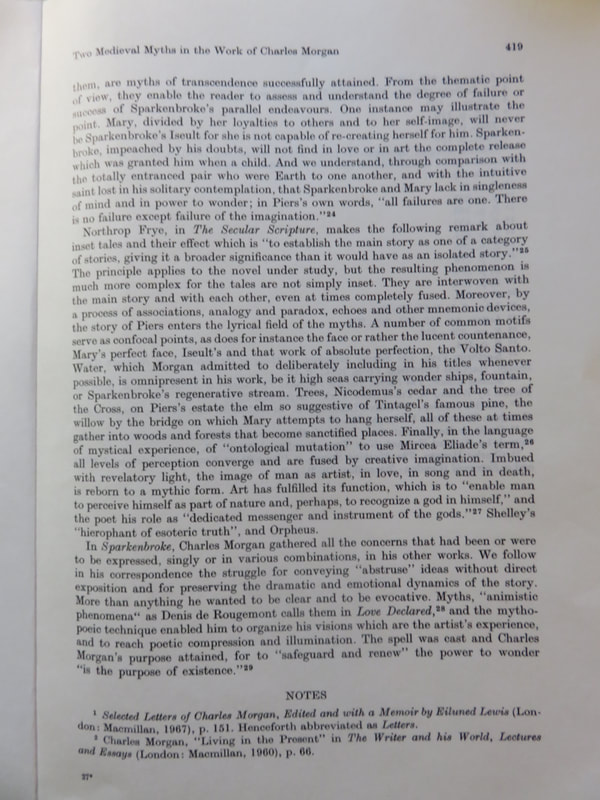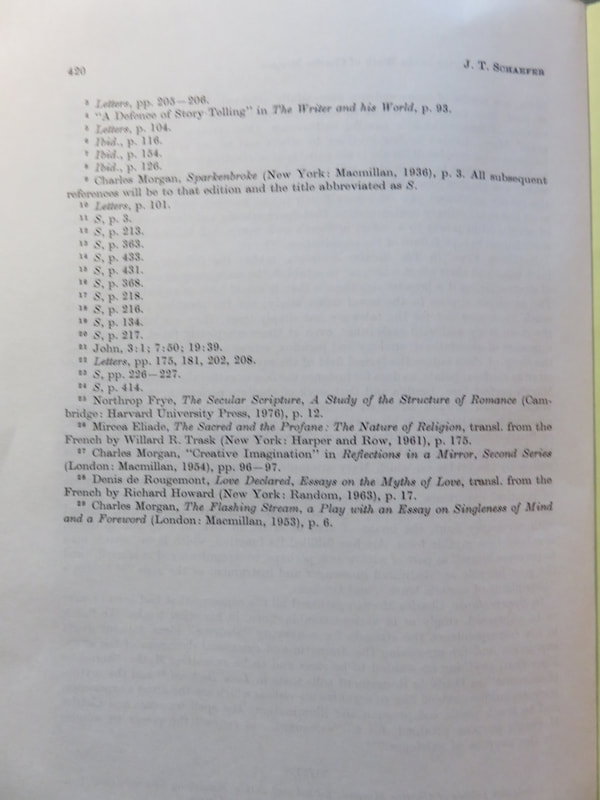 A portrait of Barbet?
Looking at Jacques and Germaine Delamain, to whom The Voyage was dedicated (Germaine was CM's French translator), I came across this description of Jacques by his brother-in-law, the novelist Jacques Chardonne; as I read it there grew before my mind's eye an almost perfect picture of Barbet Hazard, The Voyage's protagonist.

Jacques Delamain was a great artist in prose, when he described what he loved: the bird, so rapid in movement, so manifold in its colours, its habits, and almost ungraspable. He was not a born writer, but an accidental one. Suddenly, to express what was his passion and as it were his life's obsession, he acquired a virtuoso style, a perfect line, infinitely subtle and varied, without overdoing it, without the slightest affectation in the writing; a spare style full of nuance, with extraordinary resources.
At a very early age he settled in the Branderaie de Garde Epée, near Jarnac; he lived in this bocage, his true domain, even spiritualy speaking; there, there was everything he loved and that he never exhausted, in spite of such closeness to the things that were to his taste and of great learning.
He was not close to people, and even avoided friendship; he was unambitious in the outside world, and was at ease only with the English, who talk little; he was British in complexion, not through heredity, very different from his French neighbours. I have known Frenchmen who were Hindus, Northerners, Spaniards. Strangers to their community to the depths of their being, they retreat into a solitude denser than the ordinary withdrawal of men, [and] the result created by such isolation often takes an original form. Doubtless the timidity toward people opened up for him the path that led to nature, refining his native ability to perceive what is hidden from the rest of us. The English also are good observers of nature: she is their best company.
In his retired life he shone, linked at a distance with many friends, always fundamentally generous. He was scrupulous in everything, effortlessly, with a perfect moral elegance; in his business, in his smallest actions, in his way of living, secretly musical, so quick to see what no one else notices, and with no other ambition than to be faithful.
His indifference to the normal attractions of society and to the common desires was in no way aggressive or presumptuous; wisdom was his natural bent. Amid the flowers that were his perpetual delight, naval binoculars always to hand, observing around him the life that interested him, he created his own universe, well rooted in the earth; I do not believe there was room in it for great problems, for any disquiet, nor for dangerous certainties, more disturbing than doubt.
A certain way of living, thoughtful and noble, protects one from many cares, and even lets one depart in peace; one is prepared for any eventuality.

Jacques Chardonne (tr. Roger Kuin)


Paul Valéry's Preface to ​The Voyage
The great French poet Paul Valéry's Preface to the first French edition of The Voyage, published by Stock, Paris, in 1946. Interestingly, he had not at this time read the book, but such was Stock's haste to get it into print, and such his admiration for Morgan and his previous work, that this Preface was written and printed anyway – and it is a fine (and exceedingly French) assessment.

I do not believe that, in theory at least, it is possible for a poet – at least for a poet who has never attempted a novel – to say anything whatever about that art that will not seem either utterly naïve or fundamentally malicious. The reason for this, if there is one, and one that may be put in simple terms, might be this: that the poet and the novelist do not at all give the same meaning, or rather the same value, to the same words. Thus, the word LIFE indicates generally, in the novelist, observation and the possibility of varied identifications, while for the poet it awakens the feeling of a power, at once immediate and transcendent, of transformation and preservation, of which the purest product is song.
But it is perhaps the essence of Charles Morgan's art to make this simplification pointless and illusory. His novels are novels where the song of life remains always perceptible. There is a poet in each of their protagonists. I have had the impression, reading them, that many chapters are organised on the model of sonatas; and especially that the endings of those chapters leave the spirit in that expectation of silence that the last notes of the piece of music or the last lines of a poem exist to awaken in us. But (supposing that my observation is true) this concern or this instinctive character of the work is in no way proper to the novel as genre: it belongs to the world of harmony, that of pure sensibility.
This continued complexity of substance in his works gives to Morgan's prose a singular charm and depth. Often, it emanates an almost religious solemnity, which gives to love, even in the suggested foreshadowing of its physical powers, a value of universal tenderness.
But love, when it does not confine itself to the exchange Chamfort spoke of, and when it is itself, even the happiest – an attempt by two beings to unite in themselves that which is most unknown of themselves – necessarily evolves on the edge of death. Nothing is more banal than to join those two words love and death; but to communicate as a necessity in great souls the mutual resonance of those extremes of being; to impress upon the mind its fated and sublime reality, as has done the genius reflected in Tristan, is both one of the simplest and one of the most despairing problems an artist can face, precisely because of the banality of those all-too-common terms. It is one of our author's eminent merits to produce the sensation of this profundity of love, and to produce it by means of the language of the novel. Literature, and prose especially, leaves the reader a freedom which constantly threatens the emotional order of a work, its 'times', the tonal differences – all that music can, and that we cannot, note and force the audience to submit to. But in The Fountain, for example, we are held, and we yield to the will of one who is our emotions' master.
I have so far onely a very superficial impression of this novel The Voyage, and so I cannot speak of it as one should. The story is set in France, among Frenchmen. Perhaps it will seem strange to us: perhaps we may think that one would never meet, in our countryside, the man and the woman who are its protagonists. In any case, nothing would be harder for me, scarcely knowing peasants other than by hearsay, than to imagine and describe the 'psychology' of a wine-grower, even one from the South. Morgan certainly has more experience of them than I, but Morgan is English, and that circumstance gives to his undertaking a singular value. When I can read his Voyage at leisure, I look forward to an extraordinarily complex enjoyment. An urban Frenchman who knows the psychology of rural Frenchmen, as represented by an Englishman, makes for a combination that I find all the more attractive for the fact that the Englishman in question is a great, noble and devoted friend of France.
I shall always remember that night, at the Comédie Française, when we saw appear, before the audience assembled there for the poetic celebration of the country's liberation, alone, grave, living the moment with all his heart, Charles Morgan. He read to us, slowly, with that solemn intonation we French have difficulty giving to reading, the great poem he had composed in honour of our country. Many did not understand, but all were captivated.

Paul Valéry
translation © Roger Kuin



The following was sent to Melbourne, Australia, where a memorial luncheon was held for Charles Morgan on the 50th anniversary of his death -- see the Nigel Jackson page.

FIFTY YEARS ON: IN MEMORIAM CHARLES MORGAN

Many years ago, when I was an undergraduate at Oxford, I said to my tutor, 'Isn't it odd? Charles Morgan [he had died a few short years before] already seems to have been almost forgotten.' To which the caustic Jonathan Wordsworth replied merely, 'And rightly so.' Conversation over.
I was probably the only undergraduate of my year even to have heard of Morgan, much less read him. His name was part of my childhood: my parents read him, and discussed him with their friends. I dimly remember their excitement when The Judge's Story appeared; a writer had spoken to their thoughts and values, to concerns they might not consciously have known they had. The Fountain and Sparkenbroke also were household names.
A question I never asked myself then, but have pondered since, is whether the attraction they felt had something to do with not being English. Morgan seems always to have exercised his greatest attraction upon those born across the Channel, across the North Sea. The key to this lies, perhaps, in Portrait in a Mirror, where the young protagonist takes issue with the English sense of humour.
I used to think, and in part still do, that Morgan's enemy, here first discerned, was the irony that characterises most 20th-century art. Yet looking back I wonder if it did not go deeper than that. The very Englishness, the refusal to make a fuss, the comforting habit of not explicitly taking catastrophe too seriously, of hiding shattering emotion behind a cup of tea; that Englishness that muddles through by affecting Philistinism, was not something that, in his art at least, Morgan could accept.
It was his Welshness, perhaps. In Henry V, it is Welsh Fluellen who weeps at the slaughter of the boys and bores his English mates with 'the laws of war, look you'. There is about Morgan's work something that embarrasses the English in its pursuit of an ideal, in its refusal of the trivial, in – to use his own term – its singleness of mind.
The seventeenth century would have understood him better, and he knew it. Henry Vaughan, his wife's Welsh ancestor; Thomas Traherne, the Cornish mystic; the serious conviviality of Great Tew and its pursuit of the infinite; a distillation of Molinos' quietism; these were among the springs that fed his river.
What thrilled me at nineteen, and rejoices me to this day, is Charles Morgan's handling of the English language. In diction, in imagery, in rhythm, he surpasses almost all the writers of his own century and a great many of the preceding two. The control he exercises at his best lets him walk the fine line between Stoic dryness and sentimentality. Writing about Cranmer's Prayer Book he allowed us a glimpse into his own mind's workshop. On the passage in the Litany, 'To strengthen such as do stand; to comfort and help the weak-hearted; and to raise up them that fall; and finally to beat down Satan under our feet', he wrote 'Where, except in Churchill at war, shall we find the passionate energy that can drive a stress on to three consecutive syllables? We are half afraid of emphasis as we are half-afraid of poetry.'
It is this scrupulous craftsmanship, this discipline, that puts his writings, whether fiction or non-fiction, among the finest that twentieth-century prose style has to offer. One savours Morgan's prose as one savours Sir Thomas Browne's, Robert Burton's, or John Donne's. I'll end with a quotation from A Breeze of Morning that has haunted me for forty-five years. 'But there are moments, above all on spring evenings, when the lakes that hold our moons are sucked into the earth, and nothing is left but wine and the touch of a hand.'
The man who wrote this sentence, and thousands like it, deserves our homage, our attention, and our delighted reading of his work.

Roger Kuin


Liber Amoris
A few years ago, The New Yorker ran a revivew article concerning two biographies of William Hazlitt, which includes some unkind remarks about Hazlitt's Liber Amoris -- almost as unkind as were the comments at its first, anonymous, printing in 1823.

Morganians (some of whom are Hazlittians also) have reason to know better. CM's 'Liber Amoris', printed in the posthumous collection A Writer and his World (Macmillan, 1960), is a model of generous independence of opinion.

Of that fierce, unsparing, vulnerable book, he writes, 'passionate youth, or passionate middle-age for that matter, may see, reflected in its pages, an aspect of love which the aloof world calls 'disgusting' or 'silly' or 'futile' and which the passion-stricken one half-knows to be so in himself. Yet he may find, in these same pages, that assuagement which is given by imagination shared, and is, to the tormented and enraptured, more precious than counsel...it is not a dispassionate book: you pick up what might, after so many years, be a spent ember, and it burns.'

And a long quotation from the Liber shows us what Morgan the writer, as well as Morgan the romantic, loved about it:

I am now enclosed in a dungeon of despair. The sky is marble to my thoughts; nature is dead around me, as hope is within me; no object can give me one gleam of satisfaction now, nor the prospect of it in time to come. I wander by the sea-side; and the eternal ocean and lasting despair and her face are before me. Slighted by her, on whom my heart by its last fibre hung, where shall I turn? I wake with her by my side, not as my sweet bed-fellow, but as the corpse of my love, without a heart in her bosom, cold, insensible, or struggling from me; and the worm gnaws me, and the sting of unrequited love, and the canker of a hopeless, endless sorrow. I have lost the taste of my food by feverish anxiety; and my favourite beverage, which used to refresh me when I got up, has no moisture in it. Oh! cold, solitary, sepulchral breakfasts...

And Morgan: 'Who will, may smile at that. It is extreme, unbalanced, and, fortunately, without a sense of humour. But it is true with a truth that a regulated and discreet sanity could not have communicated. "The sky is marble to my thoughts," wrote Hazlitt, and the saying is of Shakespeare's breed. It has the terrible flash of Troilus and Cressida.'

This may serve to remind some who love CM's novels but have not ventured further, to look into his essays. The two volumes of Reflections in a Mirror and A Writer and his World are easily, and cheaply, available through Abebooks or Alibris, and yield great riches both of thought and vintage English prose.
There is a pleasing brief essay by Philip Hills on The Voyage (alas with the feminine article in French) here.

A fine essay by Jacqueline T. Schaefer on 'Charles Morgan and the Image of the Artist' is in Joep Leerssen and Karl Ulrich Syndram, Europa Provincia Mundi: Essays in comparative literature and European Studies offered to Hugo Dyserinck on the occasion of his sixty-fifth birthday (Amsterdam/New York: Rodopi, 1992), 321-336. This book is available also as an e-book via Google Play.