The Works

Novels

The Gunroom (1919)
My Name is Legion (1925)
Portrait in a Mirror (1929)
The Fountain (1932)
Sparkenbroke (1936)
The Voyage (1940)
The Empty Room (1941)
The Judge's Story (1947)
The River Line (1949)
A Breeze of Morning (1951)
Challenge to Venus (1957)

Plays

The Flashing Stream (1938)
The River Line (1952)
The Burning Glass (1953)

Essays

Epitaph on George Moore (1935)
The House of Macmillan (1943)
Reflections in a Mirror (1944)
Reflections in a Mirror (Second Series) (1946)
Liberties of the Mind (1951)
A Writer and his World (1960)
(posthumous selection)

Poetry

'To America' (1917)
'Ode to France' (1944)
Collected Poems, ed. Peter Holland (Matlock: Scarthin Books, 2008)

​A little-known essay:

THE WORD 'SERENITY'

At the heart of the unease of the world as it moves on into the second half of the twentieth century is our sense that the tragedy in which we live is, as tragedy, bad. It is as though Phèdre were being written by a garage-boy or Antony and Cleopatra by an idiot. The lines do not scan, the structure is confused, no form is felt to be completing itself. The purgative effect of tragedy is absent.
One of the reasons is that, in each man's mind, events have become more and more widely separated from his sense of personal responsibility. Good and evil befall him like thunderbolts from the sky. He works hard, he prospers in his trade or profession, he saves money, he looks forward to independence in the future or to a holiday now, and suddenly one morning he awakes to find that a new series of arbitrary controls or a manipulation of the currency has ruined him. The explanations offered are jargon in his ears. He does not understand them and gravely suspects that the so-called 'experts', who contradict one another and whose prophecies are continually falsified, understand them little better than he. Of one thing only is he certain: that what has happened has happened independently of his conscious will. He is visited by a sense of the irrational, the arbitrary and the formless in human affairs. He begins to feel like a wasp trapped in a jam-jar half-filled with beer and honey. He has begun to climb out of the trap, to scale the glassy wall through which he can see sunshine and freedom, when suddenly someone picks up the jar and swirls it around; he is thrown back into the trap again.
A second reason for the conversion of the human drama from high tragedy to a species of irrational farce is that it is continually interrupted and dominated by teams of clowns and robots, committees, councils, assemblies, conferences, societies, who run about the stage in criss-cross patterns, shouting in all the tongues of Babel that they have come to save the world and issuing communiqués elaborately designed to conceal meaning.
They carry initials on their backs. Something called, for example, the People's Consultative Council for the Prefabrication of Happiness becomes the P.C.C.P.H. These initials then begin to appear in the popular newspapers. 'The P.C.C.P.H., in consultation with the P.Q.R.S.T., decided yesterday that, in the cause of equality, all tall boys should have their feet cut off, but in deference to representations from the International Confederation of Shoemakers, the proposal has been referred to the approaching conference of the R.S.T.U.' The father of a family, as he reads his newspaper, has long ago forgotten, if he ever knew, the meaning of these initials. They are placards carried on the backs of manikins who, in solemn confusion, skip across the stage of life; they are the cipher in which is written the farce that no one understands. Tragedy has lost its purgative power because it no longer has any lucidity. Life has become a screaming and a buzzing in our ears.
This is the appearance of things, not the reality. The Eumenides are still pursuing men and for the ancient reasons. The grace of God is still available to our undeserving. Our task is to re-establish in our minds the form and lucidity of the human drama. At present we are mistaking the nature of our problem. It is not at root a problem of activity, of running about the stage shouting that we know (or do not know) how the play should be rewritten; it is, on the contrary, a problem of stillness, of learning how to be still, how to listen, how to accept the human drama as a form which is completing itself and not as a whirling of incoherent fragments. We are still living, as mankind has always lived, in a tragedy which, like the tragedy of Oedipus Coloneus, has a solution; we are not living in a non-stop revue. To become incapable of making this distinction is to fall into the impiety of madness and despair.
. . . .
It is, then, perhaps desirable that, while politicians, economists and sociologists endeavour to force the play into the mould of their convictions, private men and women should approach it less violently and in a spirit of meditation. There is enough shouting; let us not increase it. There are enough infallible remedies; let us not add to them. Let us not attempt to re-write the drama of life, for we did not create life and do not know of how many acts the drama consists. Let us instead examine certain words which, even in our own lifetime, have lost or changed their meanings, and ask what is the significance of the loss or the change. In this way it may be possible to establish certain points of reference, a kind of Rosetta Stone, which shall make the contemporary tragedy decipherable by patient students.
. . . .
The words serene and serenity have almost vanished, and yet the idea they express has not ceased to exist. Why, then, have they vanished? Words are driven out of currency by our self-conscious avoidance of them. Fifty years ago our fathers and mothers would pursue elaborate circumlocutions, which we now smile at, in order to avoid words descriptive of parts of the body or functions of the body. Many of these words are now used freely,, and we pride ourselves upon our emancipation. And yet it is to be remarked that there are other words which we avoid. If our parents were embarrassed by the things of the body, we are embarrassed by the things of the spirit.
Two striking instances occur in Mr. Somerset Maugham's recently published volume, A Writer's Notebook. He speaks of the danger of note-taking. It may, he says, cause an imaginative write to lose the even and natural flow of his writing 'which comes from allowing the unconscious that full activity which is somewhat pompously known as inspiration.' (The italics are mine.) Later in the same book, he quotes Pascal: 'Mais quand l'univers l'écraseroit, l'homme seroit encore plus noble que ce qui le tue, parce qu'il meurt; et l'avantage que l'univers a sur lui, l'univers n'en sait rien. Toute notre dignité consiste donc en la pensée.' And Mr. Somerset Maugham adds: 'I think there is some disparagement today in the notion of dignity, and I believe that the French word is better translated into English by the word nobility.'
These two passages are deeply significant. Mr. Maugham is one of the most distinguished and the most popular of living dramatists. He is a shrewd and accurate observer of the fashionable habits of the contemporary mind. If he cannot use the word 'inspiration' without apologizing for it as being 'somewhat pompous' and if he says that today the notion of dignity is disparaging, then we may be sure that 'dignity' and 'inspiration' are among the words that modern men avoid as their parents avoided, in embarrassment, the words concerned with excretion. Why? Because, like our parents, we are ashamed. Why are we ashamed of the great words of the spirit – dignity, inspiration, liberty, serenity? Because the ideas within these words have been too often abused for us to abuse them. They record our failures. They pronounce our doom. No one is eager to echo the words of his own sentence of death.
Again, this is the appearance of things, not the reality. Dignity, inspiration, liberty, serenity are not the words of a death-sentence. Only the insane disorder of our stage, the corruption of the human tragedy by the wild unreason of farce, makes us reject our own means of salvation – that is to say, the solution of tragedy which proceeds from completion of its form. To say that inspiration is 'pompous' and that the word 'dignity' has a meaning of disparagement is to let loose a troupe of clowns to slap Phèdre with their balloons and drag Cleopatra from her monument. This, precisely, is what we have done, this is the degree of decivilization to which we have attained; but if we are so arrogant as to suppose that our clowns will prevail, we deceive ourselves. A gust of wind will blow them from the stage. They will be terribly silenced. The human tragedy will become lucid again.
. . . .
Lucid. Serene is the greater word, for serenity includes the idea of lucidity. A serene sky is both calm and clear, but in a stormy sky there may be lucid intervals. Nevertheless it is important to associate the two words, for penetration by light is the essence of serenity. It is possible to be calm without being serene; a face may be dully or stupidly calm, but a serene face is one through which the light of the spirit shines.
As the word serenity appears and reappears in my thought like the face of an angel looking in through a window that I can seldom open, I am visited by the remembrance of two works of art of which I have often written in my novels, and now, as I write this, I seem to understand them anew, or, rather, I would say, to receive them anew. The are 'The Agony in the Garden' by Giovanni Bellini in the National Gallery in London, and the tomb of Ilaria del Carretto by Jacopo della Quercia in the cathedral at Lucca. The Bellini has been moved. Formerly there was a bench directly opposite it on which one might sit and watch. At first it was a cause of distress in me that, as I sat, my line of vision was constantly interrupted by other visitors to the gallery who passed between the picture and me, but gradually I became accustomed to this and began even to have profit in it, for to lose the picture thus and to find it again, constantly and serenely glowing, unchanged by the eclipse of my having been blinded to it, was to be made aware of it as an emblem of Grace. Now it has been moved. I must stand before it, and island in the stream of human bodies, and to this I have not yet so disciplined myself that I am undisturbed by it. But by this disturbance, this weakness of self-discipline, I am not alienated from this picture as I might be from another as beautiful but different in kind. The Bellini will wait, like an absolution, until I am able to receive it again.
Ilaria meanwhile waits in Lucca. She is calm and, at the same time, an embodiment of the distinction between calmness and serenity. What is that distinction? However we attempt to define it, the idea of light enters into our definition. Form Ilaria there shines an interior radiance such as exists, within my knowledge, nowhere else in sculpture, the same radiance as glows, about the head of the kneeling Jesus, in Bellini's sky – a sky so profoundly serene that Bellini, who has given a halo to each of the sleeping disciples, has given none to their Master; the sky itself being, of His holiness, a sufficient emblem.
Now, it is remarkable that of these two masterpieces, so triumphantly serene, one is a figure of a young woman dead – 'L'homme seroit encore plus noble que ce qui le tue, parce qu'il meurt'; and the other, a picture of the garden of Gethsemane, marks a supreme point in the Christian tragedy, beyond which, in the Christian view, lies neither despair nor chaos nor any destructive finality, but that 'solution' of the human tragedy which, in the Christian context, is called redemption and is precisely analogous to the Greek tragedians' idea of expiatory release.
It seems, then, that serenity is among the essential distinctions between great tragedy and corrupt melodrama or farce; between form and formlessness. I dare to add that serenity marks an essential distinction between good and evil, and that its presence or its absence is one of the means by which good and evil may be defined. The alternative is not, as modern criticism of life and art often pretends, between optimism and pessimism, between sentimentality and objectively observed fact, between romanticism and naturalism. These distinctions, though perhaps useful for the purposes of classification, are not essential. The essential distinction is between the serene or light-admitting and the unserene or light-excluding. No more profoundly tragic music has ever been written than the slow movement of Mozart's Quintet in G Minor, and none more serene. It has the quality of Bellini's sky and of Ilaria's sleep.
. . . .
Therefore . . .
. . . .
Ah! but there are too many 'therefores'! I wish to compel no one to an opinion . . . Have you ever watched a child, in the full activity of childhood, halt as though an invisible hand had touched his shoulder, and stare? I remember such occasions in my own childhood, and in my manhood also, when a thing seen, which a moment ago was one of many and of no particular significance, has become singular, has separated itself from the stream of consciousness, and has become not an object but a source. What is the child staring at? Not at the flower or the drop of water or the face. The thing seen, which ordinarily halts our conversation, has become not a wall but a window. The opaque has become the serene; he is looking through it, through the disparate appearances of life, which we falsely call reality, towards the origin of that light by which all things are seen. What awes the child is not that he has arrived at an intellectual understanding of the order of things but that he has perceived that there is an order of things.
Is it not the purpose of art to renew this perception? To record facts is journalism; to comment upon them is still journalism; to arrange them in an order convenient to an ideology is to lie; to penetrate them is to be an artist. And artist is a child who stares, not at the imprisoning walls of life, but outward through the window. Degas said somewhere that he looked through keyholes; I think he looked outward. Là tout n'est qu'ordre et beauté.
But an artist is more than a child who stares and sees. He must communicate his vision. His own work must itself be serene – that is to say, not opaque, not obscure, but penetrable and penetrated by light. This, one might be tempted to say at first, is an effect obtainable by intellectual lucidity, but it is untrue; the Code Napoléon is intellectually lucid, but, valuable though it may have been to Stendhal, it is not in itself a work of art. The effect of art is an interaction between the artist and his audience. It is necessary, therefore, that he shall say clearly what he has to say and at the same time induce in his audience a condition of mind in which they are capable of receiving what he has said and what – because language is imperfect -- he has been unable to express intellectually. If he is to communicate his total vision, he must communicate his spell as well as his thought.
Rhyme, rhythm, scansion, structure – all those things which are comprehended in the idea of form – are not decorations or pedantic rules but a means of casting that spell without which the communications of art are necessarily incomplete. Their value lies in this fact: that they create in the listener a series of expectations which are continually fulfilled and so make him receptive of that idea of 'ordre et beauté' which seems to be contradicted by the outward appearances of things. When once this receptive condition has been induced in him, he becomes capable of reading between the lines of intellectual language. The sky of tragedy becomes, for him, serene.
. . . .
The human tragedy, as it now appears, has become farcical, brutal and incoherent because in it neither intellectual lucidity nor the creation of form is pursued. One may understand perfectly why men are going mad if one imagines what would have happened if Shakespeare had written in a secret code or Racine in contempt of the alexandrine, and the world had been compelled to listen to the result on loud-speakers all day and all night. The confessions, contrary to nature and reason, which are regularly made at Soviet trials are presumably obtained by the application of such mental torments, and there are plays and poetry and music being written and pictures being painted in Western Europe which are confusions of the same kind. They have neither intellectual lucidity nor form. They utter but do not communicate. The human child, looking at them, sees only hideous walls which shout at him and close in upon him.
May it not be the supreme gift of France to Western civilization that she restore order and serenity to the human tragedy? Someone must draw again in the tradition of Ingres. I did not say 'like Ingres'; I said 'in the tradition of Ingres' as one might have said of Ingres himself that he drew 'in the tradition' of Raphael. The question is not whether the human figure is idealized or un-idealized. The question is whether it stands on its feet.
May it not be the supreme gift of those who speak the language of Shakespeare that they restore vision and serenity to the human tragedy? It is not to be forgotten that the serenest of plays was called The Tempest. Nor is it to be forgotten, while we are thinking of Ingres and Bellini in our search for the vital link between form and serenity, that it was not an Academician but Renoir who wrote:

Mais, si le métier est la base et la solidité de l'art, il n'est pas tout. Il y a autre chose, dans l'art des anciens, qui rend leurs productions si belles: c'est cette sérénité qui fait qu'on ne se lasse pas de les voir, et qui nous donne l'idée de l'oeuvre éternelle. Cette sérénité, ils l'avaient en eux, non pas seulement par l'effet de leur vie simple et tranquille, mais encore grâce à leur foi religieuse. Ils vaient conscience de leur faiblesse, et, dans leurs succès comme dans leurs revers, ils associaient la divinité à leurs actes. Die est toujours là, et l'homme ne compte pas. Chez les Grecs, c'était Apollon ou Minerve; les peintres de l'époque de Giotto prenaient aussi un protecteur céleste. C'est ainsi que leurs oeuvres acquéraient cet aspect de douce sérénité qui leur donne ce charme profond et les rend immortelles.

But, if craftsmanship is the foundation and the strength of art, it is not all. There is something else, in the art of our forefathers, which makes their productions so beautiful: it is that serenity which causes one never to tire of looking at them and makes upon us an impression of timelessness. This serenity they had in them, not only as an effect of their simple and tranquil life, but thanks also to their religious faith. They were aware of their own failings, and, in their success as in their reverses, they saw the hand of God. God is always there and man does not count. With the Greeks, it was Apollo or Minerva; and the painters of Giotto's time also looked to heavenly protection. So it was that their works took on that sweet serenity which gives them their profound charm and makes them immortal.

Nothing is so certain as that, in the present condition of the world, there can be no deeper betrayal of civilization than to blur meaning, and, in art, to substitute chaos for form. The betrayal is committed, in nine cases out of ten, as an excuse for incompetence the draughtsman who cannot compose breaks his picture into disordered fragments, as one who is losing at chess might overthrow the board; but sometimes the betrayal is deliberate so that serenity may be banished from the earth and the forces of evil dictate to the inhabitants of a snake-pit.
. . . .
Now let us consider other great words that are sick. 'Order', for example. Why has it become dissociated from 'Liberty'? Or 'Beauty'. By the conspiracy of what guttersnipes has it been drawn into contempt? . . . But that, as Alfred de Vigny wrote so often in his Journal, is a poème à faire. . . .

from The Writer and his World: Lectures and Essays (London: Macmillan, 1960)
The following is a surprising open letter from CLM to the Prince of Wales (later Edward VIII, later still the Duke of Windsor), published in The Review of Reviews in April 1924, when CLM was still an almost unknown writer. One assumes that he felt his boldness in publishing it to be justified by the fact that he and the Prince had served together in their Naval training. We have not so far found any reaction to it from Royal sources.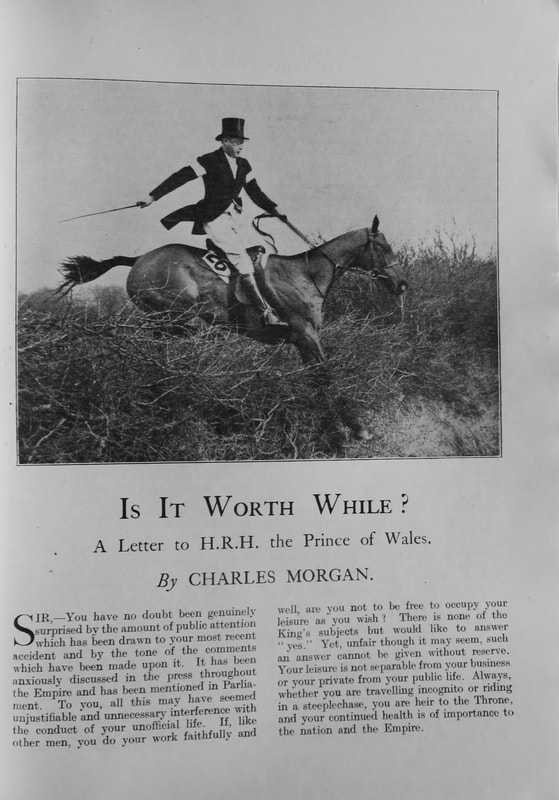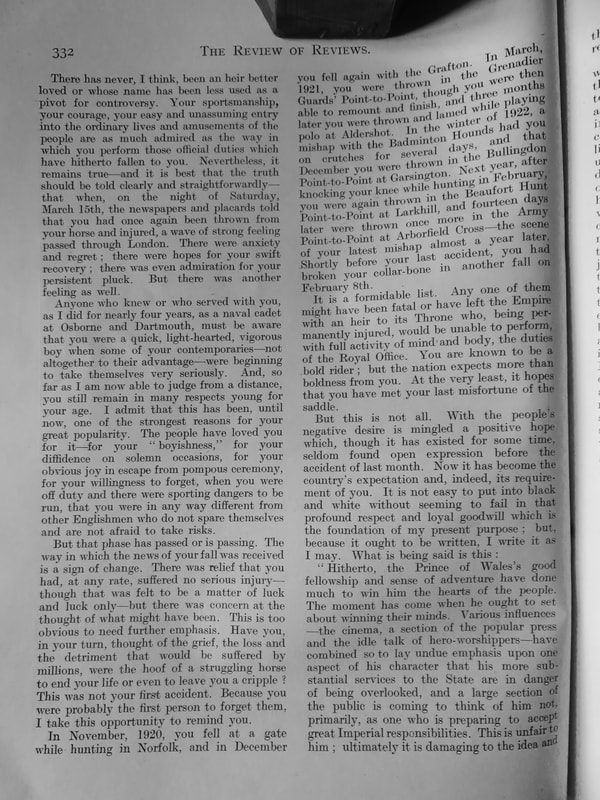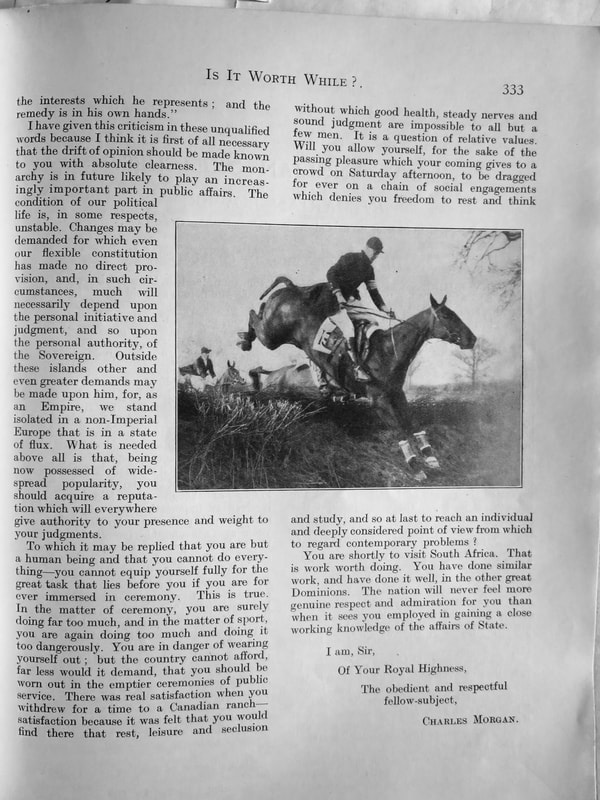 ​We reproduce here CM's 1936 review of Auden and Isherwood's The Dog Beneath the Skin mentioned in the January 29, 2014 letter to the Editor of the TLS (see above, on the "News" page).


31 January 1936, The Times

The Dog Beneath the Skin
by W.H. Auden and Christopher Isherwood
Westminster Theatre

Witnesses: Gyles Isham, Veronica Turleigh
Journalists: John Glyn-Jones, Desmond Walter-Ellis
Grabstern: Stefan Schnabel
Poet: Robert Eddison

One is made aware by the moral earnestness of the two commentators or "Witnesses" that Mr Auden and Mr Isherwood have propaganda up their sleeve, but let it be said at once that this has not prevented them from writing an entertaining revue. And lest it should be supposed that this is backhanded praise aimed against their earnestness, let it be added that when they speak their minds and, in the comments of the Witnesses, point the moral of their satire, they do so in passages which – whatever one may think of their political implications – are often genuinely eloquent and seldom wilfully freakish.

They have invented a little legend which sends a young man and a dog (in the skin of which a lost baronet is concealed) on a journey through the contemporary world. This world, as they see it, is a "racket" or conspiracy among men to avoid facing the evil truth and taking action to remedy it. The evil has its origin in their separation from nature and from the ancient discipline of nature over man. Man by his inventions has become master of nature and is terrified by his own mastery. Being afraid, he submits himself wildly to false gods – to dictators or to priestly men of science, to rich men or to the Press. Or he seeks to escape – in eroticism, mediaevalism, art, asceticism, faith, even in individualism. All these are bitterly assailed in little scenes which have generally an ingenuity of rhyming contrivance and a naivety of thought that combine to keep the stage amusingly alive. The lunatics, rejoicing in their leader, Mr Stefan Schnabel, as a rich man misunderstood, Mr Glyn-Jones and Mr Walter-Ellis as journalists eagerly engaged in boiling themselves harder and harder – these go to prove that Mr Auden and Mr Isherwood have acquired the brighter arts of pamphleteering. Towards the end the dog comes out of his skin to preach and the Witnesses tell us with summary solemnity where civilization dies, or should, get off. We are to "repent, unite and act" to destroy a social system in which love is governed by money. This stage of the proceedings is a trifle embarrassing, but how easily this form of embarrassment might have occupied the whole evening and how long an immunity there is to be thankful for! The "unity" for which the authors ask is presumably a corporate state of the Left. Why, on their own spiritual principle, it is more desirable than the corporate state of the Right which they satirize is not explained; but those who are glad to see satire and entertainment combined and who, without being Communists, reasonably share many of Mr Auden's hatreds, need not fear, while enjoying his entertainment, that their liberties will be subverted by it.